Jordan 4 x Nike SB Release Event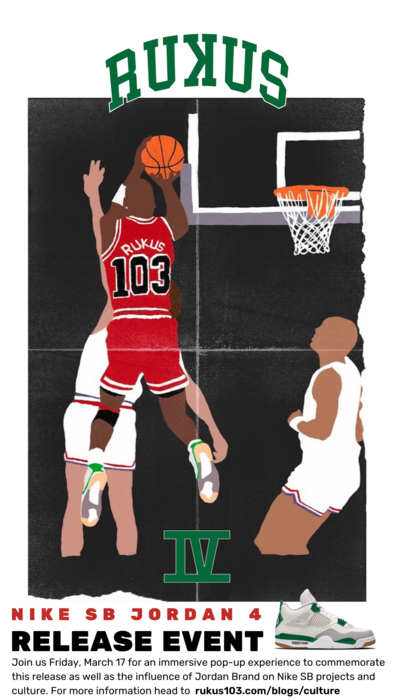 [powr-countdown-timer id="zXnKXN"]
Join us Friday, March 17 in Baton Rouge for an immersive pop-up experience to commemorate the release of the Air Jordan 4 by Nike SB. We're celebrating all day and night - Check out the schedule below.
POP-UP | 11AM - 5PM Our shopping experience will feature:
Opportunity to purchase the Air Jordan 4 by Nike SB

An immersive experience highlighting the history and influence of Jordan Brand on Nike SB

Authentic vintage Jordan Brand apparel

Special Edition Rukus merch, only available here

Live DJ set from Kay Strikez
Live painting by Marc Fresh Art
Spiked Scoops food truck
The Brunch Baddie food truck

Cash bar, games and more
SKATE CONTEST | 3PM - 4PM We will be hosting a 'best trick' contest on a custom obstacle made especially for this event. This will take place in the venue's parking lot, and all are welcome to compete and watch. Grab some merch, grab some food, and enjoy the show.
AFTER-PARTY | 8PM - 2AM The celebration continues with our bartenders and DJ Bandeaux Pat.
This event is going to be one for the books and we can't wait to see all of you there.
EVENT LOCATION (BR) WILL BE RELEASED ON MARCH 17TH. PLEASE READ BELOW FOR SOME ADDITIONAL INFO REGARDING THE RELEASE.
Location:
The shoes will not release at our baton rouge or lafayette store. they will release at a local venue near downtown baton rouge. to avoid camping, at the venue's request, we will not release the address until the morning of the event. once we post feel free to arrive and begin waiting in line. please be respectful of each other, there are plenty of shoes to go around.
Release:
the shoes will release in a FCFS format. there will be a limit to one pair of shoes per customer. do not worry, once we sell out of the Jordan 4 SB we will have some shock drops for those who missed out. There will also be event-exclusive Rukus Merch as well as some really great vintage Jordan Brand apparel.
Extra Info:
this is an all day event. we will have an immersive pop-up experience, a live DJ sets, food trucks, a skateboarding best trick, and more. please come, hang, and enjoy the entire experience. There will be an after party, in the same location, after the event. go home, get fresh, recharge, and come party with us from 8pm 'til Midnight. This is an all ages event with a cash bar and live DJ.
Leave a comment