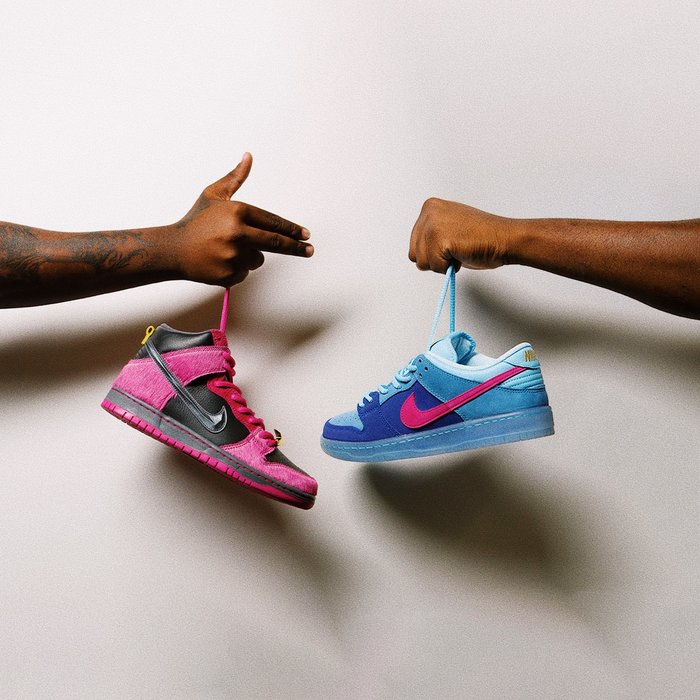 Nike SB joins forces with Run The Jewels for this year's 420 Dunk.
The proof is in the pudding. Nah! It's on your feet. Now that's heat. As an ode to their third album, Run the Jewels delivers system-breaking style with their heavy-hitting take on the Dunk Low. Deep Royal Blue suede overlays (that shit's magic) pair with bursts of Blue Chill and Active Pink, making your look the business. Flip 'em over and take a peek: oh mama, you're walking with the greatest names to play the game. And because it's all about adding your voice to the pantheon, you can personalize yours with the multicolour array of laces. No other chances needed—these 'fit finishers got you covered, from mischief to resistance to looking so smooth the paparazzi is gonna _______ (you fill in the blank).
Please fill out the form at the bottom of the page to be entered in a raffle for chance to purchase. The raffle is open from Wednesday, April 19th until midnight. Winners will be contacted on Thursday, April 20th and can claim their pairs in store. They will have until 7:30pm , April 21st to claim their pairs. This raffle is limited to those who can pick up pairs in store in Baton Rouge. Customers may enter ONCE for EACH shoe. Meaning, it will be possible to hit on both. If form doesn't load click here.
[powr-survey id="ba3cf27d_1681845143"]
Leave a comment