Nike Dunk Low 'Gone Fishing'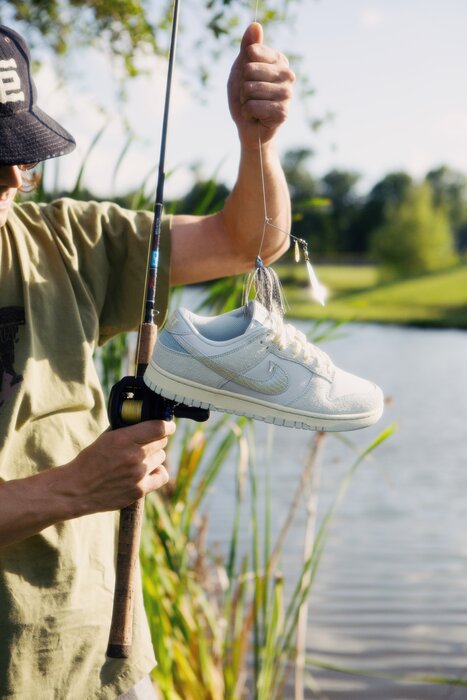 Traditionally, Nike has kept the shape of the Swoosh unaltered. Bootlegs and homages have reimagined the iconic logo in all sorts of ways, oftentimes resulting in lawsuits. An increase in new approaches to the logo, seeing it flipped, reversed and layered atop itself has recently led to the brand finally altering its sacred Swoosh more often. Releases such as Oskar Rozenberg's SB Dunk High saw a check-shaped shark replace the emblem and now Swooshes with fishhook-inspired detailing have landed on a new pack of Dunk Lows.
In our first look at the upcoming Dunk Low theme, scaly iridescent Swooshes include a small fishhook-like tip at the lateral. The shiny build matches its heel tab while the base of the shoe's upper appears in a durable white ripstop. Suede overlays favor light gray while a soft blue appears at the heel in suede and covers the ripstop tongue. A custom tongue tag features a drawing of a salmon with "Nike Beaverton 1972" text written on it, matching the sockliner's design. Lastly, a yellowed off-white arrives at the laces and midsole which rests atop a light gray rubber outsole.
Please fill out the form below to be entered in our raffle for purchase of these shoes. If entry does not load please click here.
[powr-survey id="d2f38ece_1686756353"]
Be the first to comment...